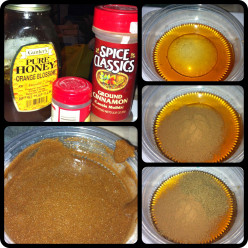 Okay girls I'm about to share one of my favorite simple face masks with you. It's really good for your skin and it smells great!!

What you'll need.
-2 table spoons of honey
-1 teaspoon of cinnamon
-1 teaspoon of nutmeg

The honey and nutmeg are natural anti-inflammatories for your skin. So they help with redness. Also good good for soothing acne scars and fighting against infection. Honey is also good for keeping moisture in your skin and making it nice and soft.

The cinnamon and nutmeg are also good exfoliators for your skin and leave it nice and soft.

Just mix the ingredients together and apply to your face. You can do an all over face mask. Or just a spot treatment. Leave it on for 15-30 minutes. And then rinse off with warm water. Moving your hands in a circular motion for added exfoliation.

Also I would try this on the back of your wrist first just to make sure your skin doesn't have a bad reaction to it.

Hope this works for you gals!