This summer is all about getting Bolder...
Nude, Red, GREY, SILVER, SHOCKING PINK are the colours of season.

The fashion shows are burning hot with striking colours, bold prints, soft romantic shades, rock influences and Far East-inspired designs. Here and there streaks of 1970's could be seen in those bold patterns and striking colours. The semi back combed Hair-do's also seemed inspired.

Red and Nude are used as single colour whereas minimization of jewelery to emphasize the bold colour effect is quite appealing. Oscar Celebrities walked down the red-carpet with bold single coloured gowns with the minimum amount of dazzling jwelery (preferably square cut diamonds)High toe-peeps of bold colour (mostly matching the colour of the dress) to give a classy sober look and Lips of a bold colour (shades of red apparently). As a matter of fact the minimization of jwellery as well as using single colour theme seems to be used in order to accentuate on the lips..

The red lips are so attractive that the whole look has to be tuned low in order to make it look over all fab..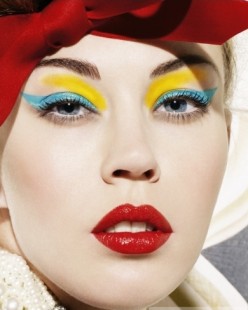 Even the make up is going bolder with Red Luscious lips, and bright eye make-ups.

This summer it seems will be out of white.. we shall get to see more of Reds, Browns, Turquoise, Greens... and feel refreshing as ever...

I personally love this Bold colours...