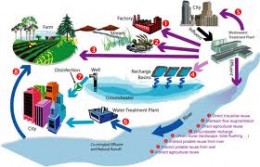 Your concern is the raw sewage water and the very simple answer to your question is that the water we drink now is recycled naturally from whatever goes into the environment anyway.
Well let me tell you the truth about water. The water we are drinking today is the same water billions or million years ago, our ancestors drunk. Therefore, it does not matter which cities in the world are recycling the water. There is no other choice but to recycle and reuse the water.
I hope this is the right answer.