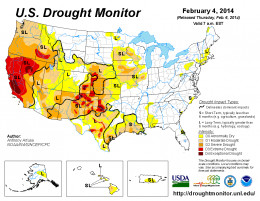 Agricultural & industrial use of water greatly dwarfs residential usage. Even if every resident cut their water use in half it would amount to maybe a 5% reduction of water usage or less overall. One big issue is that the cost of water is no where near uniform & reflective of the true cost.

Groundwater in particular is an issue & becomes significantly more strained in times of drought. Since the 1960's, the Central Valley has depleted over 70 million acre feet(23 trillion gallons) of groundwater which is scary because this is not an unlimited source.

One potential remedy to curb use is to set a cap on the groundwater use from private wells & set a tax after that on a continual basis or during drought times. Private well production is not very regulated in California. However, there were some laws enacted in December 2014 notably AB 1739, SB 1168, and SB 1319 that helped in this matter going into effect in 2015. If you better reflect the true cost of water it makes it less economical to grow water heavy crops like pistachios, almonds, & alfalfa versus ones that are not as water intensive. Say for example, after all production costs & sales; the profit for a pound of almonds and walnuts was $5.50 & $5 respectively. However it takes 2,000 gallons and 1,000 gallons of water respectively to make them. Water is currently mostly independent of the cost. Now, let's say every 1,000 gallons was taxed a $1. Now, their profit is $3.50 and $4.00 respectively. Now the walnut makes you $0.50 more in profit than the almond. This is an oversimplification & the market would adjust some but you see the point. If water has "no cost" then it doesn't matter what you use it for.

Keep in mind, this is not a free lunch & those costs would be passed to the consumer. Which would mean the cost of water crops would go up with high water crops getting the highest hit & the cost of meat & ownership of livestock would go up as their feed cost increases. However, this would further curb the demand for those items.

In the case of industrial use, this also gives motivation for companies to be more efficient in water use or invest in other technologies via desalinization, forced osmosis, or etc to tap in less restrictive bodies of water but there is also the economical component to that was well.

Overall, there's got to be some cost to water proportional to use. The trick is not hurting those that need water & what's grown with it for life while not crippling the economy.