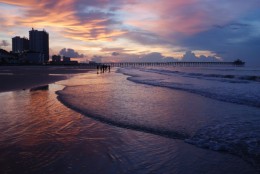 Myrtle Beach, South Carolina! There is nothing like living in the Carolinas. The people are friendly, the beaches are gorgeous, and most importantly, THE COST OF LIVING IS PHENOMENAL.

When all of the tourists leave after the season, I enjoy it the most. Me and my dog (Chino) have the beach all to ourselves to do whatever we please. It's almost as if we own it



North Myrtle Beach and Myrtle Beach have my vote.