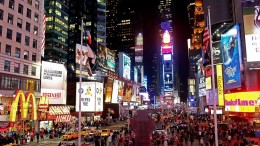 It really depends on what you're into or where you spend your time.
In some ways it won't live up to the hype and in other ways it will surpass it. Central Park is huge but the Empire State building is shorter than the Sears/Willis Tower in Chicago...etc
Compared to Orange County, California you'll notice there are far more pedestrians walking the streets especially in Manhattan and Time Square areas. In many instances things aren't as spread out as California. Nevertheless a lot of folks take taxis.
Overall where tourists tend to congregate it will be "Disneyfied" much like Las Vegas Blvd is in Las Vegas. Lots of hotels, souvenir shops, places to eat, and various entertainment options along with a marketing feast for the eyes via jumbotron screens and billboards. There's something to do 24 hours a day.
Enjoy yourself!