sort by best latest
We've gotten our most recent addition, a 3 yr-old rat terrior mix, from a refuge for abused animals and those first days were interesting. She absolutely did not trust me, cowered whenever I left my chair. That has changed, though it took months, and she now falls asleep in my arms, wakes me in the morning by licking my face, and snuggles beside me when I sit quietly with a book. The transition has been interesting to watch. I suspect she's learned a thing or two from our 11 yr-old dachshund, but when she wants attention, or has to step outside, or needs anything, she taps me with her forepaw. I'm very pleased with both dogs. The dachshund has always been an affection sponge, but that didn't come easily with the rat terrier. At this point, she's bright, obedient and fun. I'm pleased she's blended in so well.
I can't write about this adorable story because I clicked to read some of your work first. "Child's Play - A Veteran's Hope for His Young Son"- is unequivocally THE BEST poem on war I've read! Tears streaming. I post letters frm VN as katywhowaited

---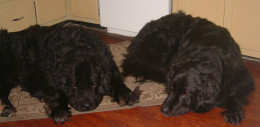 When Maggie wants a drink and the stainless steel dog bowl is empty, she hits it with her paw flipping it over, which makes a loud clang as it hits the floor to get my attention that it needs to be filled.
When she wants to go outside she bangs the doorknob with her nose. The doorknob is a little loose so it makes some noise.
How cute. When Scooter got a new stainless steel bowl, he couldn't tell that water was in it! Now he gets the concept and can see the water :) Maggie sounds adorable. Which one is Maggie and what's her breed (if you have a sec) Is she on the left?

---