sort by best latest
Pulsar: All pulsars are neutron stars, we used to think that they were something different (even alien life), however, we quickly came to the conclusion that they weren't. In reality, a pulsar is giving off high concentrations of electromagnetic energy at its poles. It rotates, and sometimes these poles head straight toward us, as a result, when we receive radio signals from these objects they seem to 'pulse' thus the name.
Red Dwarf: In the HR Scale, Red stars are the coolest of all stars, and usually burn Hydrogen and Helium in their nuclear reactions. The hottest burning stars are blue/white, while yellow stars (like our own), are somewhat in the middle.
A Red Dwarf has burnt through most of its fuel source, so that the internal pressure from the hydrogen being burned in fusion (as the fusion releases tons of energy), is no longer equal to the external pressure from the mass of the star itself. This causes the mass to condense the star tremendously.
Thus, a Red Dwarf is formed. However, this new pressure creates more heat, and creates the right conditions that the star can start burning Helium or other elements.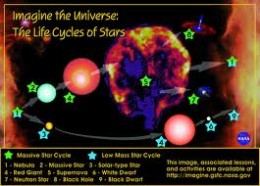 Pulsars are really a collapsed supernova that forms into a neutron star. The neutron star emits beams of electromagnetic radiation that to us on earth looks like a pulsing light.
A "red dwarf" is a star that is low in temperature and emits light that we on earth see as a red haze around it. The red haze is caused by hydrogen molecules inside the star that are moving so fast that they are remixed and burned into the helium that fuels the star. Red dwarf stars are the most common of all stars in our galaxy.