sort by best latest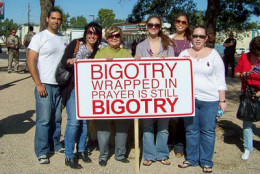 I think it is sad that an owner of such a large business would want to mix his personal views with a business. I will no longer be eating at Chick fil a because I do not support hatred toward any group of people. By eating there I would be giving him more money to fund hate.I will leave this answer with a picture I saw today online that says it all!
Love your graphic and couldn't agree more with you! I saw a pic with miss piggy and kermit getting married and it said "Muppets - supporting non-traditional marriage since 1983" I thought it was great :)

---
I personally love the muppets and was thrilled to see their stance for anti-discrimination. Why should it bother anyone who marries who? It's not like gay people are trying to force non-gay people into gay marriage... It's stupid that as a society we find it acceptable to hate a group of people. I applaud any company who takes a stand against discrimination
Yes, absolutely. The Muppets have been working hard to develop a presence in children's lives that embraces diversity, so the Muppets (i.e. Henson Corporation) have every right creating as much distance between themselves and Chick-Fill-A as possible...and remove their toys from the counters of their stores. There are other ways to acquire Muppet toys..
p.s. go Kermit and Miss Piggy! :0)
1 answer hidden due to negative feedback. Show
1 answer hidden due to negative feedback. Hide