sort by best latest
Here's the one we use:
2 tablespoons coconut oil
3 tablespoons baking soda
20-25 drops of peppermint oil
Mix everything up in a small container and store sealed. You might need to melt the coconut oil a little to be able to mix it all up. I asked the dentist about baking soda, and he didn't have any concerns. My dad used plain baking soda to brush his teeth for the past 50 years (well, as long as I've known him, anyway).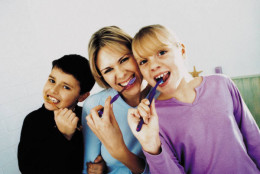 Baking soda and peroxide is probably the best one. Dip toothebrush in peroxide, then in baking soda, will whiten teeth at a fraction of the cost. Topol toothe paste is excellent for stained teeth, and will whiten them also. Ive used baking soda for years, and doesn't seem to have caused a problem with the enamel. it really does help.
For other home remedies, and tips: http://hubpages.com/health/Essential-oils-and-supp...