sort by best latest
Logic often flies out the window in the face of religious beliefs. Just do some research into the Quiverfull movement and their ideas that they should have as many children as possible to build "God's army" on Earth--while also making sure all women are completely subservient to men and have no real purpose except being baby-making machines. It doesn't matter if the family can't afford 5, 6 or 19 kids, because (to their thinking) God will never give them more than they can handle and prayer/faith will magically provide for them.
Excellent answer but there are some women not religious who are somehow psychologically fixated on having large families, knowing full well that their children won't have the advantages/opportunities that other children have. It denotes selfishness..

---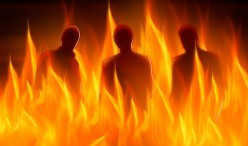 There are parents out there who are so fixated on the large family premise. They may be not be traditionally religious or conservative in perspective but they WANT that large family. It is a sort of infantile obsession. They have a void in their lives so instead of fulfilling that void by constructive means, they incessantly reproduce to full that void. To them, children are mere objects of their fancy so to speak.
They really don't care of their children are impoverished or don't have opportunities and advantages that other children have. They rationalize their absurd, even pathological philosophy in that other children are spoiled and that socioeconomic impoverishment and struggle will make their children stronger. The attitude of parents of large families are callous at best and quite ruthless at worst. They seem not to care abut the present and future welfare of their children in terms of material, socioeconomic, and educational advantages. They imbue their children with a rudimentary, survivalist philosophy of life. They feel that anything beyond that is totally extravagant and unnecessary, even immoral. The culture of poverty and struggle are integral parts of large family life but their children accept this as quite normative.
Harshness, mental and physical, are part of large family life. Parents of large families seem to believe that there is superiority in leading a harsh life. They feel that small families are soft because the latter have the opportunities and life that they don't have. Parents of large families seem to have an extremely insular mindset, mentality, and consciousness. They are of the school that children need siblings in order to thrive. They fail to realize that children can find valuable and warm companionships in non-blood related children. They feel somehow that in order for children to have companions, they WILL provide them.
They really DON'T consider that if their families were smaller, their children would have a better quality of socioeconomic, material, and educational life beyond mere and constant struggle. Not only don't they realize this, they really DON'T care at all. Parents of large families embrace poverty and penury and expect their children to do the same. That is the inverse logic and inverse psychology of the large family.