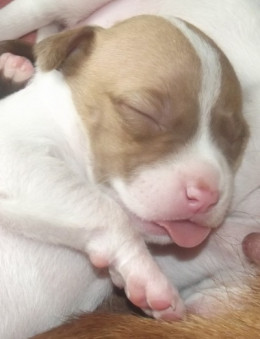 Firstly, please be careful with the suggestions about the hot water bottle. They cool off quickly, and when they do they will suck the heat right out of your little dog´s body.
Secondly, puppies do twitch and cry and whimper when sleeping. Dogs dream, just like Bob and some others mentioned below. The little puppy sleeping next to me at the moment (almost 8 wks old) still "nurses" as she sleeps, so I am pretty sure what she is doing.
The twitching/convulsion like movements are pretty normal too. I have not been able to find out if it is because of low blood sugar, but puppies have a high metabolic rate. By the time you took a twitching puppy in for an exam it would be over. If this lasts more than a few minutes, during sleep, you do need to have your puppy examined.