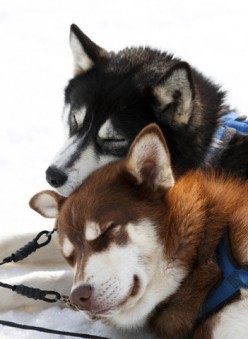 Not to sure if you all had heard this, but where I live 100 sled dogs were murdered after the sled dog company was loosing money...Now you tell me is this abuse, cause if you heard the entire story on how some of these beautiful dogs had suffered when the one bullet that was used didn't do the job, you would just be heart broken...I also believe that any human being that is capable of doing this to 100 dogs over a 2 day period, is capable of killing a another human...

Then there was the murder of a little 4 month old pitbull puppy, on New Years Eve in a hotel room, he was beat to death, is this abuse, I'd say it is...On the upside of this story the man who did this sickening act is now in jail he received a 6 month sentence as well as a huge fine...

There has been rallies here in response to the murder of the 100 huskies and we are all hoping this guy gets a larger prison sentence...Animal abuse of any kind is sickening and it's time we stand up for those who can't speak regardless of their breed, it doesn't matter if it's a dog, cat, elephant, tiger etc etc etc...

Animal abuse is sickening and needs to be stopped, if a person doesn't want their animal there are people out there who would be willing to give them a good home...

All animals big, small, domestic or wild are God's creatures - don't forget that they all need our help!!!