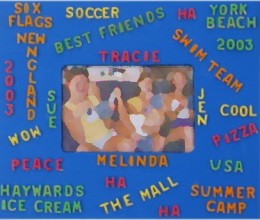 Hi there! Here is an idea that kids can make and give as a gift to a friend, parent and/or teacher!
I hope this helps!
I copied the instructions....I'm new at this and I wasn't sure how to add a link.
Jennifer

Friendship Frame January-Anytime Craft

What a fun way to capture great memories with great friends! The Friendship Frame is so easy to make and it appeals to all ages, especially the 12-14 age group. This project can be created at school, at home or even for a birthday party activity.

Attn: Teachers! What a great way to reinforce letter recognition, spelling, fine motor skills and creativity! Capture school memories and create this frame with your students. You may substitute the wooden frame for heavy card stock. You can skip painting the word and it will look just as nice. See photo below.

What you'll need:

Wooden frame or heavy card stock

Alphabet Pasta

Glue

Photo

Tape

Paint

How to:

Start by painting the frame your desired color and let dry. Next, make a list of words that you'd like to add to the frame. Pick words that express feelings and cherish memories. Once you have your words begin searching for the letters. Glue the Alphabet Pasta to the frame.

Now that you've added your words, check the spelling...twice

Brush paint on the Alphabet Pasta to give it some color if you'd like. Finally, tape your favorite photo to the back of the frame.