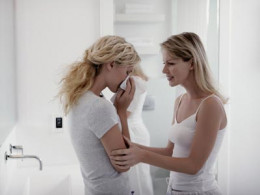 To some extent everyone is image and beauty conscious.
This would include employers as well. Having a very attractive person greet people entering their offices, presenting sales presentations, or interacting with outsiders in some form is viewed as an asset.
Maybe there is a perception that if they are so well put together they will be just as diligent about taking care of business. Attractive people look like "winners" in the eyes of many people. Unattractive men and women are socially considered as losers.
It's human nature to want to be around beautiful people, places, and things. We want the best looking mate we can attract.
Studies have also revealed that when a very attractive child cries in a classroom he/she is likely to be more cuddled by the teacher than an unattractive child. Even when we hear about murders in the news oftentimes their loved ones or the (reporters) will say:
"She was (young and beautiful) with her whole life ahead of her..."
It's as though they're saying if she had been (old and ugly) she would have deserved to be killed. Why does a victim's "attractiveness" come into play or gets mentioned on so many of these Dateline and 20/20 TV episodes?
It's because many folks don't believe "bad things" should happen to beautiful looking people! Beauty equates to purity in their eyes.
One man's opinion!