Hello. I seem to have a problem with receiving notifications from HubPages. I don't really get it and this didn't happen before so I don't know what's wrong. I took a screenshot of what I'm talking about. Hope you can see it clearly.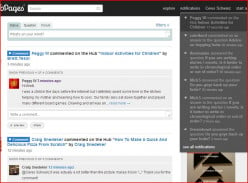 I always rely on the "notifications" link at the top of a HubPages page but sometimes, I found that it isn't always telling me that I have received a notification. It shows up in my feed but it didn't show up in the notifications tab.

In the image, I received a reply in my comment on this hub "How To Make A Quick And Delicious Pizza From Scratch", which showed up in my feed. But if you look at the notifications drop-down, this didn't show up at all and I would not have seen this had I not been checking my feed at that time. And yet, I actually received a notification for the hub "Indoor Activities for Children", which appeared at the top of the feed.

Can someone explain what this means? I hope I was able to explain what I'm talking about clearly. Has anyone else had this problem? I just don't want to end up missing any notifications. Thanks for the help and I hope I actually put this in the right forum category.