I'll be honest, I spent less than 60 seconds checking out your hubs. Here are 2 things that stood out in that short time.

1. "11 Historical War Movies like Gladiator Everyone Should Watch." Also, "List Of Some Of The Best Starz TV Shows." Did you take the photos in this article yourself? Yes, I'm being sarcastic. I saw no credits given to the person who did take the photos or who provided them. When you use someone else's photos you must always give them credit. You can be sued for stealing photos just as you can for plagiarizing text.

I'm going to try to include an example of how to give correct credit for photos in case you aren't familiar. Use photo capsules and fill out the form provided within that capsule as shown in the example I'm providing.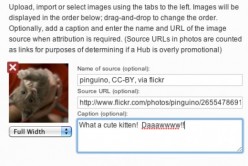 2. "The Ultimate List Of Best Mindfuck Movies Everyone should Watch". There is a word in the title of this hub that I promise you HubPages will find unacceptable and offensive. I'm surprised they haven't unpublished it.

I'm sure you've noted that every now and then you come across a hub someone else has written that may include the F-word or similar words that some people find offensive. Just because someone else jumps off the cliff doesn't mean you should. HP frowns heavily on unacceptable language whether it's in the title or the body of the hub -- or anywhere in the hub.

Please go to the Learning Center and review the guidelines there even if you've already done that a time or two. I like to keep the URL handy for reference when I have a question about something. https://hubpageshelp.com

Finally, I noted that the sentence structure in some cases was not correct. In your review of " List Of Some Of The Best Starz TV Shows," you have the following sentences: "James Nesbitt shines in his role of a broken devastated father who'd not give up. Rest of the cast has done an amazing job as well, bringing a lot of authenticity with their mesmerizing performances."

The contraction "who'd" is not a correct contraction in that it is colloquial. The only time that contraction would be correct is if it were included in actual dialogue.

Also, you begin the second sentence included here with 'Rest.' It should be 'The rest." You might also replace the word 'with' in the second sentence with the word 'into.' So the second sentence would then read, " The rest of the cast has done an amazing job as well, bringing a lot of authenticity into their mesmerizing performances. There were several similar sentence structure and grammar issues.

I hope these suggestions for your hubs will be helpful in getting you onto one of the niche sites.