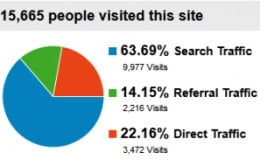 Yes, My search engine traffic is rising steadily every months. I started getting 500+ Google visits a day from my 50 hubs. My hubs are just 1 to 4 months old so still there is space for improvement.
2 of my hubs even getting 100+ Google visits a day. You will get search engine traffic on Hubpages if you spare time for keyword research and publish original, quality and search friendly Articles.

If you see my Google Analytics Traffic Report, 64% (10000) visits of total are from search engines (see the screenshot above). Means Google still loves HubPages but quality is needed.