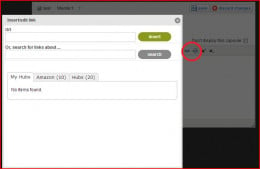 You can put links in the text of your hub by using the text capsule, as seen in the image above. Just type the words that you want to become a link and then highlight it. Once you highlight the words, you will see the "insert/edit link" and "unlink" icons become clickable. Those are the ones encircled in the above image. Just click on the icon to the left, the one that says "insert/edit link" then the interface you see in the image above will show up on top of the text capsule.

This is the "insert/edit link" capsule where you can insert a URL or search for a hub to link to your hub. Once you finish inserting a URL, you will see that the text in your text capsule now looks like a link. If you want to remove the link, just click the "unlink" icon.

Alternatively, you can also use the links capsule where you can easily add links either by URL or by search. Once you add a link, you can change the link title and link description. Hope this helps.