Although, I am quite surely in the "doom and gloom" crowd about the current state of HP, I figured I would share a tiny bit of positivity.

Post Panda, I was still able to rank a new hub within hours and receive 100+ viewers daily on some days and ride that wave for a month or so.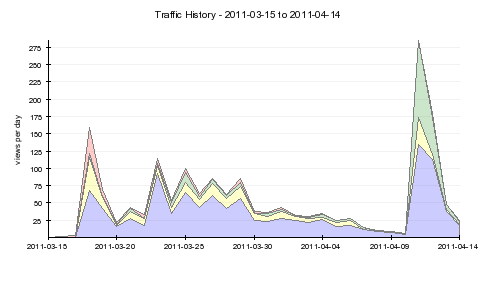 Its not a particularly amazing traffic level nor was it or ever will be profitable, but its promising that the opportunity exists still here at HP.

Hubs will still rank quickly, just more effort needs to be placed on title selection, aim for lower hanging fruit.

For me thats a catch22, since the draw of HP was being able to pick slightly more competitive terms and quickly rank and earn while acquiring data as to whether the topic/term/market could be expanded upon. A lower comp term would probably be just as easy to rank anywhere.But, the platform still has power for those who dont want the hassle of complete autonomy.

anyways.. Hubs will still rank quickly and attract traffic, at least in non commercial terms, aim a little lower and be much more analytical in your title selections and you can still turn a profit.

btw - that second spike is limited by the graph and is actually more in the 400+ range.

Anyone else find anything good in post panda HP?