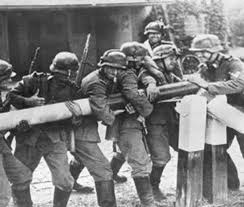 On this date 85 years ago(Sept. 1, 1939), the Germans invaded Poland from the west while Russia, formerly the Soviet Union, invaded Poland from the east sixteen days later. The German invasion of Poland was the start of World War II in the European theatre. It was also the start of one of the most egregious of genocidal acts, the Jewish Holocaust. This egregious act against the Jews included ghettoization and ultimately extermination. Out of the prewar population of 3.5 million Jews, over 95% of the Jewish population was murdered by the war's end.

Polish Jewry consisted of one of the largest Jewish populations in Europe. Polish Jewish culture was a 1,000 thousand year old flourishing one which was almost decimated in World War II. The Germans were not the only ones guilty of committing horrific and vile crimes against the population.

The Russians under Stalin also committed egregious crimes in Poland, many Poles and Jews were shipped off to Siberia to its labor camps. Both Germans and Russians had and exercised an agenda against the Polish educated and intelligentsia classes. Let us remember the Polish and Jewish dead resultant of this invasion. However, war and genocide continue to this day and century, will we learn the folly of imperialism and war with its devastating results and consequences?