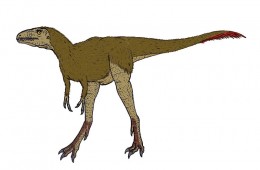 Dinosaurs were fascinating creatures. They aren't mentioned in the bible, so I do not know why the "Living Fossil Movement" even exists.
I mean, aside from dinosaurs, the bible doesn't mention tons of things like modern technology, computers, cell phones, modern medicine, the scientific method of study, evolution sciences, space exploration, planes, trains, automobiles, bic shavers, feminine hygiene, that it's illegal and immoral to rape women/children, pedophilia by priests, killing your own offspring for being "gay", judging people for being male or female while being in a male/female body, near death experiences, monopoly money, the LIST GOES ON AND ON!...
But let's focus on dinosaurs, why don't we? The bones and fossils are clearly visible in earth that can be scientifically dated to way before the "dates" in the "biblical" book of genesis.
Let's not mention how "the great ark of Noah" could have kept all these beasts alive in pairs, only to be buried in ancient valleys in the United States of America (when the USA had not been discovered yet).
Let's not use our brains to figure out how EVERY Abrahamic religion was originated in a very small section of the world, by people who could barely read and write (most of them could not). They did not know that stars could not fall out of the sky (because they didn't know what stars were). And these people were insane enough to think that a god would reproduce himself, only to have himself killed, so he could forgive us by blood sacrifice (when he could have just said, "I forgive you" and that would be that).
But, at any rate, my favorite dinosaur is the T Rex with those cute little arms!