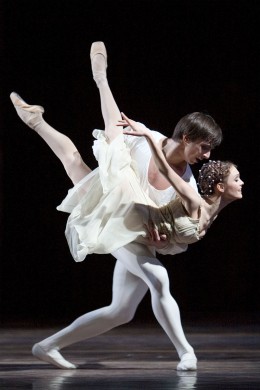 In the old days, men performed all the ballet parts - female as well as male. To this day, I understand professional football players study ballet to make themselves more flexible and less prone to injuries.
Today, ballet is associated with ultimate femininity. It is the fantasy of most little girls. I had that fantasy myself - until I actually took lessons. I found out the daintier they look, the tougher they really are!
Ultimately, I didn't have the drive it took to get any good. Perhaps I would have, if I'd had a more realistic vision of it. If I were my older sister, I would have coached myself before my first class, and made myself stick to it. As it is, I'm glad I took classes, because they helped me tremendously with good posture today (I've never had back or knee trouble!).
P.S. how many men are strong enough to hold a woman like this???