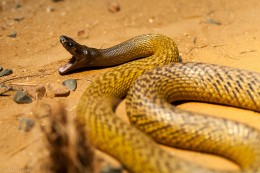 Oxyuranus microlepidotus aka the Fierce Snake: Deadliest venom of them all. Its venom consists of taipoxin, a complex mix of neurotoxins, procoagulants, and myotoxins that paralyze muscles, inhibit breathing, cause hemorraging in blood vessels and tissues, and damage muscles.

Coastal cobra Oxyuranus scutellatus: with a bite lethal in more than 80 percent of untreated cases.

Ophiophagus hannah aka King Cobra: the longest venomous snake in the world! Its venom is so strong and so deadly that it can kill an elephant in just a few hours.

Have you seen how fast these snakes move? I've seen a King Cobra slither. It's crazy! These lethal reptiles slither like XLR8 from Ben 10! (that is, if ben 10 was part of your childhood.) Looking at snakes just gives me the creeps. They look like giant worms. The attached pic would be the Fierce Snake.