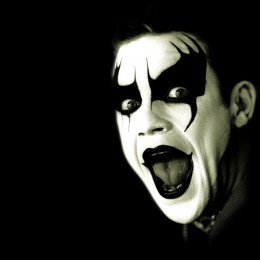 Most of us w/very little exception are superstitious to some point. Some are overtly superstitious, believing in charms, Friday the 13th, & other arcane superstitions. There are others who believe in more covert superstitions such as organized religions, hell, the number 666, & the Devil. Many more believe that nighttime, especially 3 a.m., is a time to be feared. A majority of us have superstitions which are either overt or covert.

There are those who feel that if they wake up at 3 a.m., there will be someone or something ominous......THERE. So they pray to "ward" off "THE INFLUENCE." Many believe in luck & good fortune. They proclaim that in order to things to occur, luck &/or good fortune plays an instrumental part. There are people who believe that one is preordained to be either blessed......or cursed. There are those who refuse to travel on Friday the 13th for they believe that something quite evil will occur.

There are some who use religion as a good luck piece. They use the instruments of their particular religion to ensure that they will always have good luck. They even use their religion to protect themselves against evil i.e. having a cross &/or another amulet by their bedsides. Some go further to wear their religious symbols as constant protection & positive reinforcement.

Others may use objects or furniture to ward off evil & to ensure good luck. However, in the 21st century, people are becoming more rational & logical thus discarding primitive, atavistic superstitions. But in our subconscious, there exist a primordial mind where the superstitions of our ancestors......STILL REIGN..............only to be.....RELEASED.......at the most terrifying or unguarded......MOMENT........B-E-W-A-R-E.......Booga, booga......boo-GAAAHHH......