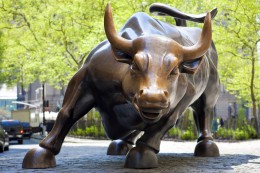 Wall Street is more about "speculation" and psychology or state of mind. Oftentimes there is no rhyme or reason for one day's results versus the following day's results.
If one (feels) things are looking up one day stocks rise and if tomorrow they feel things are looking down stocks fall. It's not unheard of for stocks to fall 500 points in a single day and rise to a new record by the end of the same week.
Rumors and innuendo by those in power can affect the stock market. There's been instances of market manipulation before.
Talk of the feds raising interest rates or OPEC agreeing to cut oil production along with anything that causes "uncertainty" or "hopefulness" effects it. Sometimes there's a sell off for fear of losses. They want to get out "before" the stock drops.
After the fact pundits look for ways to explain the unexplainable.
Sometimes they'll blame (one) company's lower than expected quarterly profits as the reason the whole market tanked for that day. There's always two sides to every coin.
A strong dollar is good for American consumers to purchase imports. However a strong dollar is bad for American companies looking to export. Lower exports mean higher trade deficits.