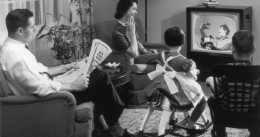 Absolutely!
The more informed you are about the goings on in the world the more challenging it is to find happiness or bliss. I believe people really were happier in previous eras before we had 24/7 cable news, The Internet. Twitter, and other social media informing us of just about every atrocity taking place somewhere in the world.
When things were safe in one's little town they felt safe in the world in general. Life was simple and "predictable".
Today even though your town may have little or not much crime you're still inundated with images and news stories of horrific crimes taking place around the country and world.
Another example is people use to blindly "trust" their government and it's leaders.
Today most people are "cynical" about government.
It's hard to be "blissful" and "cynical" at the same time.
The loss of innocence and fear of an "unpredictable future" makes it nearly impossible to enjoy "now" even when things aren't actually bad for the individual in this moment!
At the core human beings are creatures of habit and "change" usually rattles nerves. We've had nothing but constant changes since the 1960s. Most people's blissful days were during childhood. A time they were (ignorant) of the ways of the world.