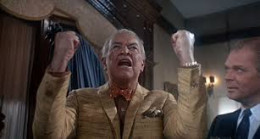 The FIVE TOP horror movies are:
(1) Black Sunday (1960) by Mario Bava. It is an Italian gothic movie which played in the United States. It has become a classic from which many horror movies both past & present borrowed many themes from.

(2) The Exorcist (1973). This movie put the HORROR in horror. With the exception of Black Sunday, there was no movie more scary, horrific, nor totally Unnerving. This was one HELL of a movie if you catch the drift.

(3) Rosemary's Baby (1968). This movie combined sophistication & horror. Oh what occurences in the Bram Apartments. One NEVER knows about one's neighbors, ummm.... This movie really scared THE DEVIL out of some people.........This movie brought HORROR to a level of ULTIMATE...CHIC.

(4)The Omen (1976). When this movie came out, it scared so many people back to religion. Many people saw this movie as a harbinger of what pure evil ......IS. It was horror but so real to some people. Is the devil..........real, ummm..............

(5) Psycho (1960). Well, what shall we say about the movie. A mama's boy with a penchant for murder. The shower scene is quite enough to give one the heeby geebies. Warning..........watch WHERE you stay.......NEVER KNOW who is......LURKING......ABOUT.