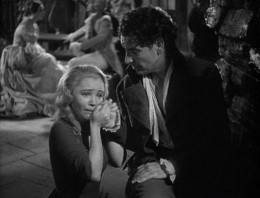 Of course these kinds of lists are always tricky, and frustrating - there's too many films I like in very different ways and very different types of films, etc - but, if I have to set my analytical-self aside (and that's not at all easy for me) and just spit-out an answer of what 3 films first come to my mind as favorites I would have to say . . .

3. 'Brazil'
2. 'The 7th Voyage Of Sinbad'
1. 'A Tale Of Two Cities' (1935 Ronald Colman version) . . . greatest movie ever made.


. . . yet, I must acknowledge how absurd it is that 'Rebecca', 'Taxi Driver', 'Talk Of The Town', 'The Hidden Fortress', 'The Horror Of Dracula', 'Random Harvest', 'The Day The Earth Stood Still', 'Catch 22', 'Lucky Partners', 'The Ghost And Mrs.Muir', 'You Can't Take It With You', 'Mysterious Island', 'Here Comes Mr.Jordan', etc, etc, etc, are not on my list.