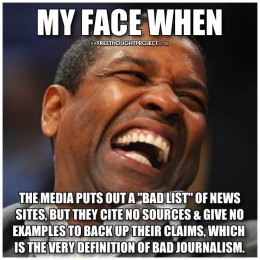 Always question the news source - CNN, MSNBC, ABC.
Read information garnered on a subject, the latest "reports", off the wall opinions, then reach a conclusion. With the bias shown during the election, I wouldn't trust any main stream outlet to report anything unbiased.
Its funny, there was a takeover of the Trump transition HQ, and the only ones reporting about that were "fake" news sites. Couldn't find one thing on any of the mainstream news outlets.
Also remember the "fake" news about hillary killary being sick - which was true, and the main stream media missed it.
Listen, read from at least 4 "news" sources, then reach a conclusion.
Fake vs biased - about the same thing.