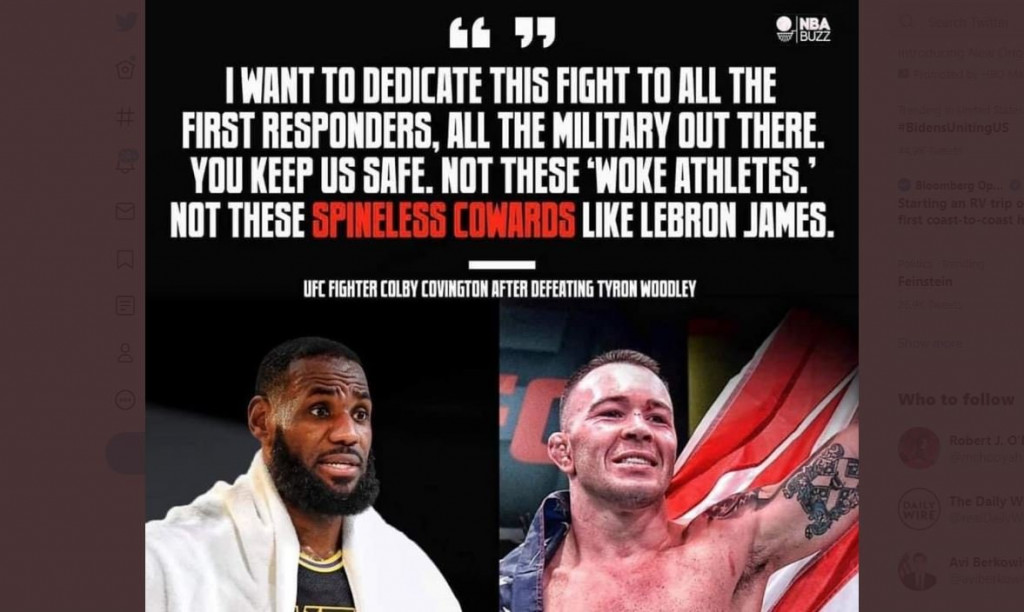 UFC fighter, Colby Covington, who happens to be a die hard Trump supporter, and trash talker of LeBron James by questioning his manhood constantly. He also says that LeBron is too much of a coward to ever fight him in a sanctioned UFC fight, and claims if LeBron knew how to actually fight then he would've knocked out Delonte West's teeth (one of LeBron's former teammates in the NBA), when it was revealed West was having an affair with LeBron's mother, which prompted LeBron to play like garbage during the playoffs that year because of how upset he was over that fact.

LeBron has taken the high road though by simply saying anyone can talk trash about someone when they're not around, but if you put that same person in the octagon or arena, then they'll usually crap their pants. That's all LeBron has ever said in response to Covington's remarks questioning his manhood.

And several NBA players have come to LeBron's defense essentially implying that for all of Colby Covington's talk, he's essentially a nobody. And to that extent, I would have to agree because if it wasn't for all the shit he's been talking about LeBron publicly, I never would've heard of him at all.

For those of you who don't know, LeBron James has publicly declared that he plans to campaign for Joe Biden this year in the presidential election like he did for Hilary Clinton 2016. He's even been paying fines for people in Florida, so they can vote for Biden this year as well. LeBron James has made no secret of his own disgust about Trump and his current administration. LeBron has also been a supporter of Black Lives Matter, as he's been using his platform a lot to speak about it publicly, which has drawn the attention of Colby Covington, who doesn't support those things.

However, I doubt LeBron will ever take up Colby Covington's challenge to fight in a sanctioned UFC fight against him. Even though I personally think LeBron James is a loud mouth bitch, I will say in his defense here that he literally has nothing to prove to Covington. 50 years from now, I doubt seriously anyone is going to remember what Colby Covington said about LeBron James, as his stats, his basketball accomplishments, and charity work will most likely be the thing people will remember him for several years down the road. He has nothing to gain by fighting Covington honestly. Therefore, I don't think it would be cowardly to walk away. As a wise man once said, sometimes it takes more courage to walk away from a fight than to walk right into one just to prove you're not scared of the other person.

However, what are your thoughts? Do you think LeBron should throw down with Covington to shut him up? Or do you think it's cowardly for James not to ever agree to fight him? Or do you think LeBron taking the high road is the best choice? Please discuss.