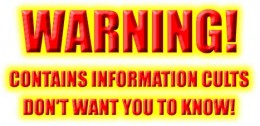 Honestly cults and loved ones are a bad mix. Cults have an innate goal to alienate their members from the truth and from anyone or anything that stands in the way of the cults control over it's members. It's hard when they interfere with relations and especially parental relationships because it is impossible for a loving parent or relative to abandon their relationship with loved ones and the cult will pull them in that direction.

It is important to understand what a cult is. The theological definition of cult is and has always been: A cult is a perversion of the gospel, based upon an unholy devotion to a person, a principle, or both.

A cult of Christianity is a group of people, which claiming to be Christian, embraces a particular doctrine system taught by an individual leader, group of leaders, or organization, which (system) denies (either explicitly or implicitly) one or more of the central doctrines of the Christian Faith as taught in the sixty-six books of the Bible.

For a more detailed explanation go here: https://carm.org/cults-outline-analysis

Here is a list of seven ways to recognize the difference between a religious community and a cult. Written down, the signs seem clear:

1. Opposing critical thinking
2. Isolating members and penalizing them for leaving
3. Emphasizing special doctrines outside scripture
4. Seeking inappropriate loyalty to their leaders
5. Dishonoring the family unit
6. Crossing Biblical boundaries of behavior (versus sexual purity and personal ownership)
7. Separation from the Church

But when it's your friends, your faith, your community, it's not so obvious and when it is obvious to you it will be very hard to convince cult members of what you see.

As a Christian, your only course is to love them without condoning their error, stand strong against a cult's beliefs and practices where it goes against true Christianity. Familiarize yourself with the cult so you can be knowledgeable about what you say in discussion. Pray fervently for God to remove their blinders and send people and circumstances to bring them to the knowledge of the truth and the error of their cult. Engage other Christians to support you in prayer for deliverance from the cult and be certain to be available to the loved one when your prayers are answered! Pray expecting them to be answered and don't stop praying until they are. I've been there, I've seen first hand how God can answer such prayers through people and his providence.

The most important danger of a cult is eternal not temporal, that it will lead you down the road to Hell. Matthew 16:26 What good will it be for someone to gain the whole world, yet forfeit their soul? Or what can anyone give in exchange for their soul?