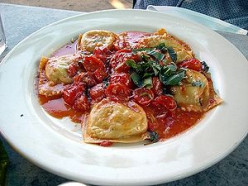 Yes indeed a recipe forum needs recipes. And I love sharing so here we go.

I've been told I make the best Marinara Sauce in the world and here I'm sharing that wonderful recipe with everyone. I have my own garden and grow my own vegetables and herbs but you can use canned or store bought produce if you don't have a garden. Just substitute about the same amount of any item for the fresh item.

1. Eight Tablespoons Extra Virgin Olive Oil.
2. One Cup Purple Or Red Sweet Onion.
3. Two Tablespoons Fresh Minced Garlic.
4. Two Tablespoons Fresh Fine Chopped Basil.
5. One Tablespoon Fresh Fine Chopped Thyme.
6. One Cup Seeded And Fine Chopped Green Bell Pepper.
7. One Cup Seeded And Fine Chopped Red Bell Pepper.
8. Eight Cups Skinned And Crushed Plum Tomatoes.
9. One Cup Fine Diced Fresh Button Mushrooms.
10. One Fourth Cup Very Finely Shredded Carrots.
11. Four Cups Low Salt Vegetable Broth.
12. Salt And Pepper To Taste.

The Plum Tomatoes are the best for any Italian Sauce especially a homemade marinara sauce. If you don't have access to Plum Tomatoes buy a 22 Ounce can of diced Italian Style Tomatoes.

When you cut up your vegetables you want them to be very finely chopped. You want very small vegetables in your sauce.

Start out by cooking your onion, garlic, and peppers in your olive oil over medium heat until the vegetables are translucent but not browned and you want them done. This is very important.

You need a heavy stock pot with a lid to cook your marinara sauce in. Spray the inside of your stock pot very heavily with vegetable cooking spray. This will prevent sticking and will make clean up so much easier.

Now that you have cooked your veggies add everything to the stock pot and turn the heat under the pot to medium. Cook your marinara sauce over low heat for a couple of hours. Add your fine diced mushrooms in the last 30 minutes.

You can store this sauce in a covered plastic container with a lid but let the marinara sauce cool to room temperature before you put it in the refrigerator. Never put hot sauces or soups directly in the frig. or you will ruin them.

This marinara sauce is a rich flavorful sauce that is perfect over any pasta, ravioli, tortellini, or you can use it in making Egg Plant Parmesan, Lasagna, Or Baked Penne.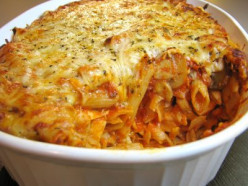 Baked Penne Pasta

1. One Pound Penne Noodles Cooked And Drained.
2. One Pound Mozzarella Cheese. ( Divide In Half )
3. One Sixteen Ounce Container Ricotta Cheese.
4. Four Cups Marinara Sauce.
5. One Fourth Cup Fresh Grated Parmesan Cheese.

Mix everything together in a large bowl except reserve half the Mozzarella Cheese. Spray a 13" X 9" casserole dish with vegetable cooking spray.

Pour the contents of the bowl into the prepared baking dish and sprinkle the reserved cheese over the top. If you have it sprinkle fresh diced fresh basil on top of the cheese.

Bake in a 350 degree pre heated oven for 45 minutes.

This is a quick and easy delicious pasta dish that with a garden salad and garlic bread makes a wonderful meal.