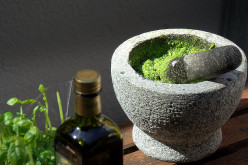 Basil is a member of the mint family, this easy to grow herb has a strong, pungent, peppery flavor that reminds me of licorice and cloves. It can range in color from green to purple, and it's usually available at your local supermarket either dried or fresh.

It's always been a key ingredient Mediterranean cooking and it is widely grown in the southern United States.

Fresh basil is easy to grow, so if you have a bumper crop I suggest you make pesto. I grow the heirloom purple basil and I often make it into a delicious homemade pesto and toss that pasta with some homemade pasta.

My Pesto Recipe

1. Two Cups Fresh Basil Leaves.
2. One Fourth Cup Chopped Fine Walnuts.
3. One Fourth Cup Olive Oil.
4. Two Tablespoons Fresh Minced Garlic.
5. One Teaspoon Sea Salt.
6. One Fourth Cup Freshly Grated Parmesan Cheese.
7. Two Tablespoons Freshly Grated Romano Cheese.

Process all your ingredients in your food processor and then toss some of the pesto with fresh cooked pasta for a delicious meal.

Yes I know most people and recipes say use pine nuts. But I think the walnuts are much better.

You can keep fresh made pesto in a covered container in the refrigerator for two weeks.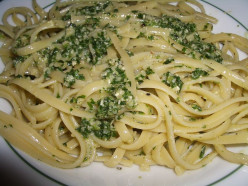 Homemade Pesto on Pasta