Did You Know, The Legend Of The Zucchini Fairy?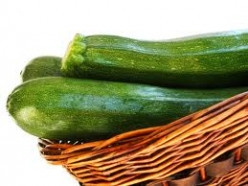 The Legend Of The Zucchini Fairy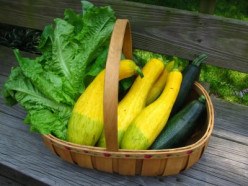 Have you ever opened your front door and seen a basket of fresh-grown zucchini waiting there? You probably wondered where it came from. Perhaps your neighbor with the lovely garden and the green thumb gave you some overflow from his/her bumper crop. Well, we have a secret to share with you. You've just been visited by the Zucchini Fairy!

So pull out the recipe book or check the recipes below. Why not make stuffed zucchini, zucchini quiche, or zucchini ratatouille and maybe invite that nice neighbor over for dinner.

Zucchini is a popular summer squash shaped like a thin cucumber. Its skin can vary from dark to light green and sometimes has yellow markings. The zucchini has creamy white-green flesh, a mild flavor, and its available year round in supermarkets. I prefer my own homegrown zucchini. Zucchini can be steamed, grilled, sauteed, deep fried or baked.

Zucchini, Size Does Count

Size does count. in zucchini's case, the smaller the vegetable, the more flavorable it will be. Look for zucchini that is 2" to 8" in length. They can be stored in the refrigerator for up to four days, but it's best to use them the same day you buy or pick them.

Storage

Refrigerate zucchini in a plastic bag up to five days, longer if garden fresh.

Zucchini And Corn Skillet

Ingredients Needed

1. 3 Small Zucchini Squash.
2. One Tablespoon Butter.
3. One Tablespoon Vegetable Oil.
4. One Tablespoon Minced Fresh Garlic.
5. One (15 1/2 Ounce ) Can of Whole Kernel Corn, well drained.
6. One ( 2 Ounce ) Jar Pimentas Diced And Well Drained.
7. One Teaspoon Ground Sea Salt.
8. One Level Teaspoon Lemon Pepper.
9. One Half Cup Mozzarella Cheese.
10. Two Tablespoons Fresh Chopped Basil.

Cut each zucchini lengthwise into quarters. Thinly slice the quarters.

Melt butter with vegetable oil in a large skillet over medium heat and then add zucchini and minced garlic and sautee three to four minutes or until your zucchini is tender.

Sprinkle with cheese and fresh basil. Heat until cheese melts. This is so delicious.

Lemon Zucchini Bread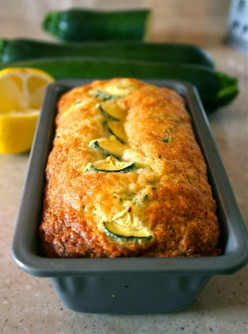 If your going to make a zucchini bread recipe make this one because its one of the best you'll ever make and taste in your life.

Ingredients For Lemon Zucchini Bread

1. One Fourth Cup Plain Yogurt.
2. One Tablespoon Fresh Lemon Juice.
3. Two Large Eggs.
4. Six Tablespoons Butter Softened.
5. One And One Half Cups White Granulated Sugar.
6. One Teaspoon Ground Sea Salt.
7. One Teaspoon Cinnamon.
8. One Teaspoon Baking Powder.
9. Two Cups All Purpose Plain Flour.
10. Two Small Zucchini Shredded Very Fine.

Make sure that your oven rack is in the middle position and pre-heat the oven to 375 degrees.

You will be needing a 9" X 5" loaf pan. Spray it with vegetable cooking spray and then dust the pan with a tablespoon of plain flour and shake it around. Then shake the flour out and tap the pan on the bottom to remove any excess flour.

Shred your zucchinni very fine in the food processor.

Now you need a large bowl and you will need your electric hand mixer.

Mix all your ingredients together very well being sure that anything dry gets wet and that everything gets very well mixed together.

Pour and scrape the ingredients into the prepared baking pan. You can if you wish stick slices of zucchini into the top and sprinkle with a tablespoon of lemon zest. If you do this it will turn out beautiful and taste oh so delicious.

Bake in the pre-heated 375 degree oven for 55 - 60 minutes until a thin blade knife inserted in the center comes out clean. Let it stand for 10 minutes before you remove from the pan and serve.

This is one of the best Zucchini Breads that I have ever tasted. I've won several blue ribbons and one $500,00 prize for this same recipe. I added the thin sliced zucchini slices and the lemon zest to the top before baking. Its really easy and delicious this way.

Questions, Suggestions, Tips, Etc Just Ask Or Post

Crazyhorsesghost

Crazyhorsesghost and Thomas Byers are one in the same person. I've been entering and winning cooking contests for over 50 years. Yes I know this would make a Great Hub Page but I chose and wanted to post it here. I hope you enjoy it and I don't think you'll find a better Zucchini Bread Recipe anywhere. If you have questions just ask.