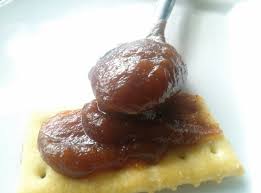 Here is a recipe that I'm sure everyone will love. Its Crock Pot Apple Butter and I love to make it out of Granny Smith Apples. You can use other types of apples but Granny Smith Apples will produce the best flavor of any apples.

1. 7 Cups Peeled And Diced Granny Smith Apples
2. 2 Cups Apple Cider
3. 1 1/2 Cups Honey
4. 1 Teaspoon Ground Cinnamon.
5. 1/2 Teaspoon Ground Cloves.
6. 1/2 Teaspoon Ground All Spice.
7. Pinch Of Ground Nutmeg

In a large crock pot or slow cooker mix all the ingredients. Cover and cook on low heat for 12 - 14 hours, or until the mixture is a deep golden brown.

Pack while hot into 4 hot pint jars. Process in a hot water bath for 10 minutes, counting from the time the jars are immersed and the water comes to a full boil.

I just love this homemade Crock Pot Apple Butter and it is absolutely wonderful on raisin bread toast.

With apples getting ripe right now around the world now is the time to make your own wonderfully delicious Crock Pot Apple Butter.

If you make this please come back and tell us all how it turns out for you. Have you ever made something like homemade apple butter? This is a really easy recipe and its really easy to make.