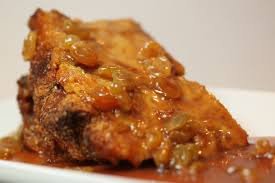 Pumpkin Bread Pudding with Caramel Sauce

My Grandmother Hattie made a similar Bread Pudding all her life and I've worked for years to come up with this recipe. I promise you that this is a wonderful bread pudding and the pumpkin is just perfect in it. You get all kinds of wonderful flavors with the pumpkin.


Ingredients:

12 slices cinnamon raisin bread, cut into 1-inch cubes (about 8 cups)

4 eggs

1 cup milk

1 can (15 oz.) pumpkin

1 cup firmly packed dark brown sugar

1 tsp. vanilla

1/2 cup Pecan Pieces diced up very fine

Caramel Topping, heated as directed on label. You can buy a Carmel Sauce already made or you can make it by the recipe below.

Pumpkin Bread Pudding with Caramel Sauce Directions:


Place bread cubes in greased 13×9-inch baking dish.
BEAT eggs, milk, pumpkin, brown sugar and vanilla with wire whisk until well blended. Pour evenly over bread; sprinkle with pecans.
BAKE at 350°F for 45 minutes or until knife inserted in center comes out clean. Serve warm topped with caramel topping.

TIP: Make-Ahead

Prepare as directed except for baking; cover. Refrigerate several hours or overnight. When ready to serve, bake, uncovered, at 350°F for 1 hour or until knife inserted in center comes out clean.

You can even make these ahead and freeze it in a baking pan for when your ready to bake it and serve. Do not add the Carmel Sauce until ready to serve. It is wonderful with vanilla ice cream and hot Carmel Sauce over the top. I bet if you make it you will make it again and again and yes again.

Recipe For Homemade Carmel Sauce

Ingredients

1 packed cup brown sugar
1/2 cup half-and-half
4 tablespoons butter
Pinch salt
1 tablespoon vanilla extract

Directions

Mix the brown sugar, half-and-half, butter and salt in a saucepan over medium-low heat. Cook while whisking gently for 5 to 7 minutes, until it gets thicker. Add the vanilla and cook another minute to thicken further. Turn off the heat, cool slightly and pour the sauce into a jar. Refrigerate until cold. Heat it up for 1 minute at a time in the microwave when you get ready to use it. Incidentally this Carmel Sauce is wonderful over vanilla ice cream.

Serving Suggestions

If your serving this bread pudding at a dinner party or public event where you want to impress people buy eight ounce plastic glasses and make a bread pudding in each one.

Put a big scoop of bread pudding in the bottom of the glass and then a scoop of vanilla ice cream. Put hot Carmel Sauce over the top of the ice cream and then fill the top of the plastic glass with whip topping like Cool Whip and top it all with a Maraschino Cherry.


I guarantee you when you deliver these to the table people are going to say wow!.

I hope you get to make the Pumpkin Bread Pudding With Carmel Sauce real soon.