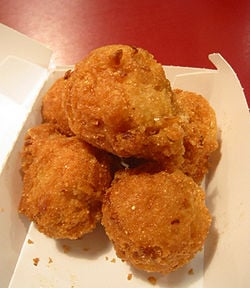 I love hush puppies and I have been told by tens of thousands of people that I make the best hush puppies ever. Try this delightfully delicious recipe and see what you think.

1. 2 Cups Self Rising White Corn Meal.
2. 2 Cups Self Rising Flour.
3. 1 Teaspoon Sugar.
4. 1 Teaspoons Ground Sea Salt.
5. 1 Teaspoon Ground Black Pepper.
6. 1 Large Sweet Onion Grated Or Pureed Very Fine.
7. 1 Large Jalapeno Pepper, Stem And Seeds Removed And Minced Very Fine.
8. 1 4 Oz. Jar Red Pimento Peppers Drained And Diced Very Fine.
9. 2 Cups Buttermilk.
10. 1 Large Egg.

Vegetable Oil For Frying.

Combine first 5 ingredients; stir in onion and peppers.

Whisk together buttermilk and egg; add to flour mixture.

Let hush puppy mix set covered tightly with plastic wrap at room temperature for 1 hour.

When your ready after dough has set at room temperature for 1 hour heat 2-3 inches of vegetable oil to 350 degrees.

Drop batter by level tablespoonfuls into hot oil. Fry in batches until golden brown. Turn over with metal fork using care if you need to.

The oil for frying hush puppies should be 2 - 3 inches deep and heated to 350 degrees before you fry the hush puppies. Drain them on paper towels before serving.

Hush Puppies are great served with fish or really any seafood.

I hope you will share the link to this post with your family, friends, and social media. I've been cooking for almost 50 years and I hope you enjoy my recipes. I hope Hush Puppies are in your future real soon. Have fun making them.