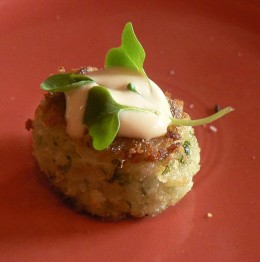 Garnishing is a way of making the prepared food look good and make people want to eat it.

In the photo is a crab cake garnished with a lemon cream sauce and a sprig of greens. As you can see it makes you want to eat it.

You can make beautiful roses by peeling a large tomato in very thin slices and roll the peeling up into a beautiful rose that you can use to decorate a plate with.

The more work you put into preparing and adding a beautiful garnish to food or a plate the more people will appreciate it.

There probably are thousands of ways you can garnish a plate.