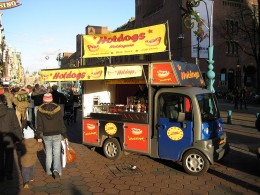 It really depends on whether its a all beef hot dog or a cheaper hot dog with all kinds of weird and unusual contents.

Beef is used in all beef hot dogs while pork and chicken are used in cheaper brands of hot dogs. The cheaper hot dogs also contain a lot of by products and fillers.

You will now also find hot dogs made from turkey, chicken and even vegetarian.

If you've never had a Hebrew National Hot Dog you need to give them a try. They are the best hot dogs ever made and are all beef.