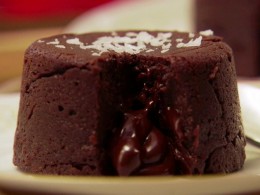 I just love anything chocolaty. But there are some many favorite dessert recipes made of chocolate that I'll not be able to limit it to just one!!!! So I'll bring up a few recipes that are my all-time favorites. Here I go with all the delicious dessert recipes:

1. Chocolate sheet cake can be made in cupcake tin or baking sheet.

2. S'more brownies are another real taste. If you top these brownies with browned marshmallows then it will be a real hit!!!!

3. Making a chocolate fondue in a slow cooker can be great dessert recipe by mixing different sweets and treats.

4. Molten chocolate cake is simply yummy!!! You can make it at home and take the taste.

5. Chocolate fudge is another recipe that can be topped with your desired candies, chocolate, cookies etc.

6. Chocolate truffles can be an exciting gift recipe and can be made easily. Just prepare the chocolate base and coat them within chopped nuts.

These are my most favorite chocolate dessert recipes. I love all of them. That's why I've brought them here in the answer. There were some others but as the answer will be long, I've avoided them. Hope you love this.