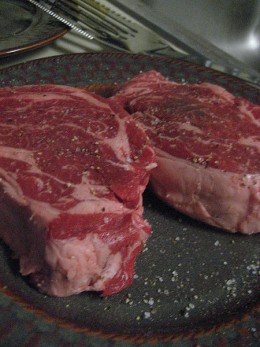 It really depends on what you are marinating. To simply add flavor, marinate most foods 30 minutes to 2 hours. To tenderize meat, marinating eight hours or overnight is ideal, but large cuts of meat such as a rump roast or chuck eye roast can go up to 24 hours.

Delicate seafood and fish only need thirty minutes to forty five minutes marinating, but chicken breast can go one to two hours.

Beef and lamb can spend several hours in a marinade with out becoming mushy. Tougher cuts such as round or flank steak can easily marinate for 24 hours.

If you need a great marinade liquid Italian Dressing is the perfect all round marinade. It will make even the toughest cuts of beef tender.

In the photo are chuck eye steaks which can be soaked in an Italian Dressing marinade for eight hours for a wonderful tender steak.