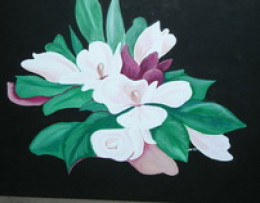 I have many. I enjoy painting, sculpting, and photography. I enjoy portrait painting the most. People and drawing them are very interesting, and rewarding. Capturing a moment in time, whether thru art, or photography, Obviously, healing, natural remedies, as well as pharmacy, and health. The way the body has a way of healing, and regenerating itself is amazing. The opportunities to help others is very rewarding.
Gardening, flowers, growing them, painting them, and photography of them. Again, amazing if you really think of it. Growing an amazing, and beautiful plant from a tiny seed. Thereby placing your mark on the world, and beautifying it as well for other generations to enjoy, as well as passing that torch onto your children, and the appreciation of that hobby as well.
My eldest son has already gotten the desire to garden, and understand the knowledge of transpiring a wilted, dead plant into a glorious beautiful living thing. That can be appreciated for decades to come, as well as the many annuals that are appreciated for a season, but just as valuable to the landscape. Among my favorites are aziatic lilies, mums, hydrangeas, and jonquils. Impatiens are my preferred annuals, easy to maintain, and glorious color in the shade. I love grubbing in the dirt.
Fashion, styles, and interior design as well. The changing of the season, the contrasting of color, style in clothing, and interiors.
As I said my interests are many. Great Question!