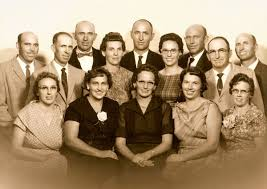 According to a study done by the American Academy of Neurology, children who have 5 or more siblings have a 39% percent chance of developing Alzheimer's disease than children with fewer siblings. This finding was based upon the fact that children from large families tend to grow up in impoverished environment where there is inadequate nutrition and other factors which precludes the brain from achieving complete maturation. This brain impairment means that the brain functions less normally than it would had the environment been less impoverished. Here's the link -------->
http://newswise.com/articles/large-fami … alzheimers
http://edition.cnn.com/2000/HEALTH/01/2 … rs.family/

There is authentication to this:
Charles Bronson, actor, developed alzheimers. He was the 11th of 14 children born into an extremely impoverished family. He died from the disease.
Glen Campbell, singer, is now battling alzheimers. He is the 7th of 12 children born in lower socioeconomic conditions.
Perry Como, singer,7th of 13 children, developed alzheimers and died from it.
Floyd Patterson, youngest of 11 children, developed alzheimers and died from it.