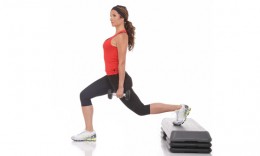 Lunges with weights are the classic exercise for the thighs. Remember, the placement of your toe first is key to engaging the thigh muscles rather than the knee muscles.

I also recommend a modified squat that I call the tiny turtle - it is a squat but slower (thus the name turtle) and a small movement not a full squat. The idea is to target tone the muscles that protect the knees.

Remember, our legs contain our largest and longest muscles, therefore, the quickest way to loose weight is to target tone the quadriceps and the sartorius.