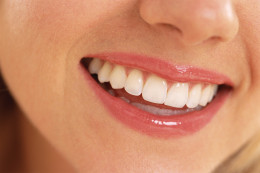 You can be allergic to anything, at anytime, even if you've used a product before. By it occurring right after the fitting, I would be apt to believe that is was the glue. The mouth, and under the tongue is straight into the blood stream. You should notify your Dentist of your reaction so that a note can be added to your files. I would request a verification of which one they used, and avoid that type of glue from now on. I do know they recalled polygrip a while back, because of the high content of zinc in that preparation. It could easily be zinc that you are reacting to. Although nothing has been confirmed, Zinc has caused problems in the past for others. Zicam comes to mind, and was recalled. The swabs that were recalled caused a lack of smell in those who used it on a long term basis. As was the case with polygrip, used long term and daily, would stand to reason to cause problems. The recommendations for zinc ingestion is nothing above 100mg daily.
It could be anything in the glue that you are allergic to, from the carriers, to main ingredients.
I hope this helps to answer your question.