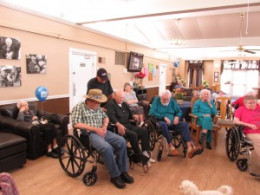 It's the final place one goes to wait to die.
No more driving around town independent, choosing your own meals and meal times, (no more) vacation traveling, dating, sex, or privacy.
The rest of your life is spent "waiting" for someone to visit you, for meal time, for having your diaper changed, taken to the shower, looking forward to episodes of Jeopardy! and The Wheel of Fortune or Food Network shows. Routine becomes a way of life.
Having people speak to you in the same tone adults do to small children. Watching the little birds in cages in the lobby.
The smell of urine and fecal matter stained sheets in the hallway. Waking up depressed each day while reminiscing about the past.
Watching one person after another be "carried out" until it's your turn to die. Overly prescribed medications to keep you drowsy.
Tick tock, tick tock, tick tock....until (your) clock stops.