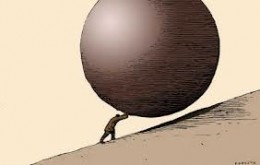 In large families, undue socioeconomic burden is placed on the father. He is the primary breadwinner. As family size increases, he has to work even harder to keep the family socioeconomically afloat. Mothers don't work in large families as they do in small families, so in a sense, they aid in the socioeconomic burden of the household. Fathers of large families are under intense pressure to provide for their families & it oftentimes become increasingly difficult to do so. Since it is impossible or next to impossible for one person to adequately provide for a large family, many fathers reach the breaking point emotionally, mentally, psychologically, & even psychically. Fathers see themselves working hard while mothers are not contributing anything socioeconomically. They begin to resent, hate the mothers for continuously placing burden on them by continuously having children.

There are mothers who continuously have children because they want to avoid work. They feel that it is easier to have children than to have a job or career. They don't want to assume socioeconomic responsibility; in fact, they may find it to be quite daunting so the only viable alternative they have is to have children, using children as a ruse not to work.

There are other women who have large families to manipulate & hold on to their husbands. They see the children as a way to maintain their marriage. They reason that their husbands won't ever leave them because he is obligated to her as a mother of a large family. Furthermore, no father would ever abandon his children as he created them.