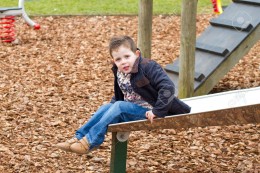 Today early in the morning I had an irresistible feeling of disturbing a kid. Doing something naughty at times always make me feel good. It is always like a very big achievement.

And there I got a chance. On my way back home from college I found a cute kid of 7-8 years of age sitting in the park. I didn't waste a nanosecond. I ran to the park and sat silently beside him. Then after sometime I stared, 'You know what there is a tiger in this park.' And the child looked really scared. Seeing this I felt like scaring him more. I started giving dreadful descriptions about tigers.
And then when the child was about to cry , I kissed him and gave him a chocolate (which I always carry). The child started feeling better and I departed.
It was a very naughty feeling I had and which I accomplished. I felt very glad to share it.
Anyway thanks for the question.