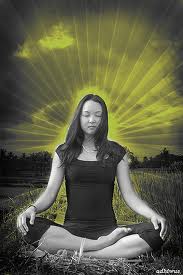 The Buddhist and the Hindu concepts, like other ideas from the middle ages, may not be a very good approximation of reality. The astronomy, anatomy & physiology, biology, meterology, and geology (just to name a few) of the ancient cultures were, without exception, all discarded as science progressed.

No matter how poorly they may describe reality, older ideas linger until a replacement appears. The cognitive science of Asia has been an effective tool for changing human consciousness, but it's replacement has only appeared recently.

Do you see the light? Enlightenment is one of those terms that mean a lot of different things to many different people. In the Yogic, Buddhist and Mystical traditions, one of the primary goals in meditation is enlightenment. Enlightenment is notably characterized by the story of the Buddha. Before Buddha was the Buddha, he was known as Siddhartha, which very interestingly means, "One who achieves his aim". The story goes that Siddhartha was a prince having been born into a royal family. He was raised in wealth and luxury. He knew very little about life outside of the palace or about the lives of the common people. When he became older, he wanted to learn more about his kingdom and the people who lived there. He began to travel and learn about the pain and suffering of the many people around his village. He became disillusioned about the life of royalty and began to search for truth. He learned various meditative practices and after many years, experienced enlightenment. Enlightenment is basically the English translation of the Buddhist word, bodhi; which also means to awaken or to know. Buddha means "One who has awakened". To be awakened is to become completely transformed to the ultimate level of reality where there is no dualism, no pleasure or pain, no suffering and no ego. One has become liberated and no longer tied to the wheel of samsara or the cycle of birth, suffering, death and rebirth.